A Granddaughter on Her Grandmother
BY TORY BERNSEN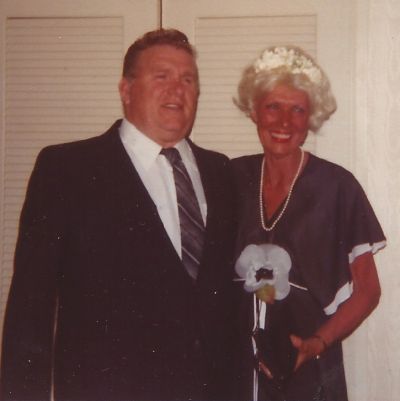 Rick's mother Alyce Majerus was born July 30, 1927. She married Raymond Majerus, the love of her life, and had three children, Rick, Jodi, and Tracy. She had two grandchildren. Her life was her family. She supported her husband, kids, and grandkids in everything they did. She played no games. The love of her life was her husband. The later loves were her children. Her heart was in her throat anytime her family had a "big" day. She defined "big" by whether it was "big" to those she cared about. She had a bottomless heart and a sharp mind. She wore that heart on her sleeve.
Rick was no exception to her no holds barred love and enthusiasm for her family. Though she lived to see him coach, Alyce rarely came to his games. Not because she didn't want to see him coach and his team play, but because she got so nervous. When she did attend, she had to get up and pace during the games. She would bite her fingernails and hold (squeeze in a strangle hold) the hand of whoever happened to be sitting next to her. It really didn't make much of a difference though, whether or not she attended the games. When she didn't attend Rick's games, much of the same thing happened, just at home and not in the arena. She would pace from room to room with the game on every TV she had. She refused to let other people come in, lest they think she was crazy. When Rick won, she would feel a surge of pride – one that extended to losses as well. This is a feeling she knew Ray, Rick's father, shared with her even though he was already in heaven. Alyce attended games though, despite her nerves.
Alyce loved to travel, the walls of her apartment were littered with photos of her trips with her husband, her kids, and her grandchildren. She would tell stories that would enthrall about her trips around the world. At home, Alyce volunteered at her children's and her grandchildren's schools. She was an eager participant in anything and everything. She even helped perfect one of her granddaughter's softball moves. While working with her on throwing in the yard, the ball hit Alyce's knee. A trip to the emergency room entailed. Alyce assured her granddaughter she was just fine and was happy that she was able to help. This was the essence of Alyce – family first, self later.
In addition to eagerly watching her family succeed, and supporting them in any way possible, Alyce was a fabulous cook. Her children and grandchildren still use her recipes today. And when they are seeking out some Alyce cooking out-of-the-house, several restaurants in Milwaukee, Salt Lake City, and St. Louis offer her recipes! Her legend carries on, just as her love does.
As she did his whole life, Alyce supported her family in every endeavor they had. She loved them unconditionally. Her family's happiness and accomplishments were her greatest accomplishments. Rick was her accomplishment. He was her pride and joy. She loved to see him succeed and thrive, even if she could barely control her nerves in doing so. Everyone has their biggest champion, their biggest cheerleader. Each one of us does, be it our parents, our teachers, siblings, friends, coaches. Alyce was her family's biggest cheerleader, their biggest champion. While she passed away on August 6, 2011, at 84 years old, she still lives on in the lives of her family. And her family has no doubt that she cheers them on from heaven, along with Ray and Rick.